Hoe jij beïnvloed wordt (3): zelf weten wat je betaalt
'Na afloop mag je zelf bepalen welk bedrag je aan ons event wil geven. Dus: wat vond je het waard?' Dit schreven we aan de deelnemers van Breinstof, een event dat we in 2018 organiseerden. Wat deelnemers niet wisten, is dat ze deel uitmaakten van een experiment. Of, om preciezer te zijn, 3 brein-experimenten!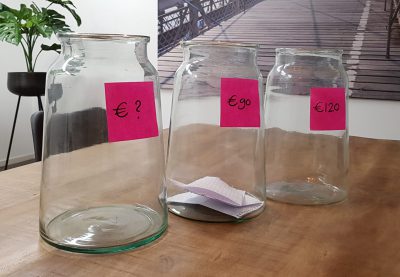 Bij de uitgang van het event stonden 3 glazen vazen, met daarop verschillende afbeeldingen: eentje met €90, eentje met €120, en eentje met een vraagteken (?) erop. Deelnemers konden zelf kiezen waar ze hun 'waardeformulier' in stopten. In de vaas met vraagteken konden ze zelf een bedrag kiezen.
1 Opties zetten de norm
Hoewel deelnemers volledig vrij waren om zelf te kiezen wat zij het event zelf waard vonden, werden ze beïnvloed door de opties die werden aanboden. Door de bedragen van 90 en 120 euro prominent zichtbaar te maken, zetten we de norm. Kennelijk lag een reële bijdrage in de richting van dit bedrag. Ook kiezen mensen bij drie opties vaak de middelste: je wil niet knieperig lijken, maar ook niet te veel betalen. Het effect zagen we terug in de resultaten: 37 van de 53 waardeformulieren (70 %) lag op of boven de 90 euro.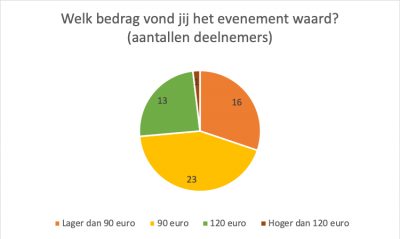 2 Kijken naar anderen
Maar dat was nog niet het hele experiment. Helemaal aan het begin waren de vazen namelijk niet leeg: in de vaas van €90 hadden we al twee formulieren gestopt, terwijl de andere vazen leeg waren. Dit zorgde voor sociale beïnvloeding: mensen kijken naar wat de sociale norm is, wat andere mensen doen, en laten zich ook hierdoor beïnvloeden. Het resultaat: 23 van de 53 waardeformulieren (43 %) zaten in de bak met €90.
3 Geven en nemen
Een derde beïnvloedingstechniek was gebaseerd op het principe van wederkerigheid. Wanneer je iemand iets geeft – bijv. een cadeau of compliment – is diegene al snel geneigd om iets terug te willen doen. Dat gaat grotendeels onbewust. In de middag deelden we daarom, net voordat mensen de formulieren invulden, chocolaatjes uit. Het precieze effect hiervan is moeilijk te meten, maar wel zagen we dat 14 deelnemers een bedrag kozen van op of boven de 120 euro (oftewel 26 %).
Lees verder over beïnvloeding: